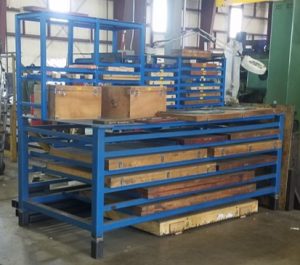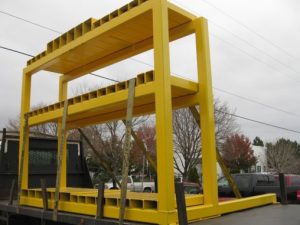 In the first application a local machine shop contracted Kendo to manufacture custom rack to organize and hold their collection of micrometers. The application shown above was engineered around putting the smaller gages on the top and larger gages on the bottom. These gages can measure from below an inch to up to 75 inches in OD or ID to 0.001'' tolerance. By contracting Klendo to make the rack they can be rest assured that their micrometer gages will be safe for many years.
The next application show is the fabrication of a very heavy duty rack made for a customer who wants to store extremely large and heavy spare parts for giant mining machinery. The storage rack was designed with extended base to ensure it cannot tip over when loaded fully. For more information about these, or any other custom fabrication applications you need, or our other value added services please see the table below or contact us directly.
Product Description: Heavy duty custom storage racks for mining and industry.

Capabilities Applied/Processes
Design Engineering
Cad Drawing
Fabrication
Shearing
Welding
Equipment Used to Manufacture Part
Band Saw
Shearing Machines
Mig / Tig Welders
Brake Presses
Plate Rollers
Punch Press
Machine Tools
Tightest Tolerances:  To Specification
Various Materials Used
Carbon Steel
Stainless Steel
Expanded Metal
Aluminum
Material Finish:
125 RMS on machined mount surfaces
Additional Facts:
Kendo can custom fabricate almost any application you need for your storage or Industrial application.
In process testing/inspection performed 
Dimensional Inspection, Flatness Testing, Functionality Testing
Industry for Use 
All Industries served
Volume 
Set of as many as you require
Delivery/Turnaround Time 
1 – 4  Weeks
Delivery Location 
Western United States
Standards Met 
Customer Specifications, 2D CAD Drawing
Product Name
Custom Storage Racks