With Hardox 500 Abrasion Resistant Wear Plate & Chocky Bars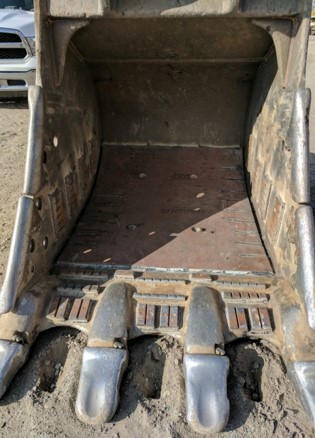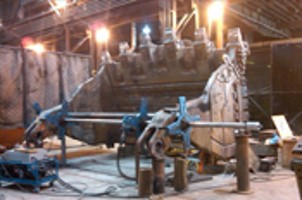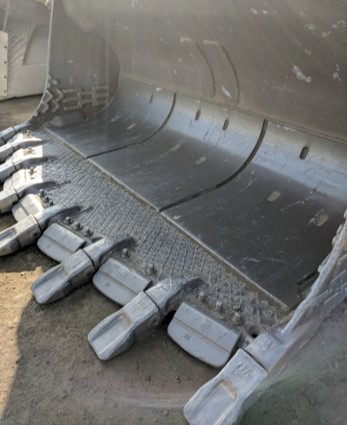 In this application aggregate mining and construction excavation customers contract Kendo to rebuild worn loader and excavator buckets. In this application shown, Kendo measures the radius of the bucket, makes a template, and then cuts and rolls Hardox wearplate into bucket liners which greatly extend the life of the bucket. In addition Kendo supplies Hardox Brand chocky bars and edge liners. The bores on the buckets are then inspected and weld repaired and line bored to receive new bearings. The end result is a like new bucket that will last for another round of production.
For more information about this hopper chute project or our other value added services please see the table below or contact us directly.
Highlights of this Custom Hopper Fabrication Project
Product Description
New life for worn buckets for excavators, loaders, and earth moving equipment
Capabilities Applied/Processes
Reverse Engineering
Fabrication
Line Boring
In Field Repair
Equipment Used to Manufacture Part
20' x 10' Plasma Table
Plate Rolls
Welders
Various Boring Bars
Boretech Weder
Boring Mill
Overall Part Dimensions
Product Weight: up to 20,000 lbs. ea. (as seen in photo15 YD Bucket)
Product Length:  Up to 18' long
Product Height:  Up to 12' high
Tightest Tolerances
(± 0.005″)  on bering surfaces
Material Used
Hardox 500 Wear Plate, Hardox chocky bars and edge protectors, Hardfacing Weld
Material Finish
60  RMS on machined bearing  bores
Additional Facts
Buckets can be rebuilt in our factory or on the mine site
In process testing/inspection performed
Dimensional Inspection, Micrometer measure of bore tollerance , Functionality Testing
Industry for Use
Aggregates, Mining, Recycling, Construction, Excavating, Earth moving applications
Delivery/Turnaround Time
2 – 3  Weeks
Delivery Location
Western United States
Standards Met
Customer Specifications, 2D CAD Drawing
Product Name
Bucket Rebuilds