Industrial custom belt guards and industrial pallet cages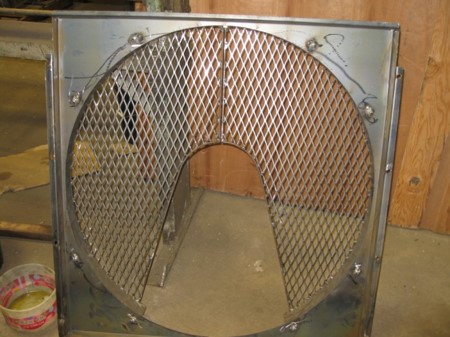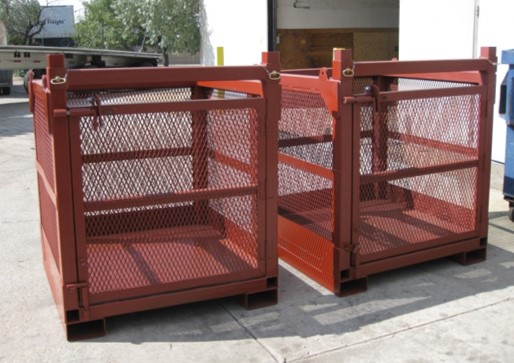 In the firs application customers contract Kendo to manufacture custom guarding from steel and expanded metal for a variety of applications. The application shown above is a custom guard made to protect a belt on a machine to meet OSHA requirements and make their work area Safe. Many times when an old guard comes off a machine it is discarded and ignored only to become a safety hazard. At Kendo we are experts at making guarding for a number of applications and can help you create a safe workplace and protect your business in event of an OSHA visit.
The next application show is the fabrication of custom baskets made for a company in the Equipment Rental industry. These particular baskets were engineered to organize parts that go on site with specific machinery when it is rented. These cages help ensure that all the parts that go out come back and are easily stored for the next customer. For more information about these, or any other custom fabrication applications you need, or our other value added services please see the table below or contact us directly.
Highlights of this Custom Project
Product Description
Industrial applications for safety guarding and other custom parts needed in industry 
Capabilities Applied/Processes
Design Engineering
Cad Drawing
Fabrication
Shearing
Welding
Equipment Used to Manufacture Part
Band Saw
Shearing Machines
Mig / Tig Welders
Brake Presses
Plate Rollers
Punch Press
Machine Tools
Tightest Tolerances
To Specification
Various Materials Used
Carbon Steel
Stainless Steel
Expanded Metal
Aluminum
Material Finish
125  RMS on machined mount surfaces
Additional Facts
Kendo can custom fabricate almost any application you need for Safety or Industrial application
In process testing/inspection performed
Dimensional Inspection, Flatness Testing, Functionality Testing
Industry for Use
All Industries served
Volume
Set of as many as you require
Delivery/Turnaround Time
1 – 4  Weeks
Delivery Location
Western United States
Standards Met
Customer Specifications, 2D CAD Drawing
Product Name
Custom Belt Guards and Pallet Baskets