FOR THE ASPHAULT ROOFING MANUFACTURING INDUSTRY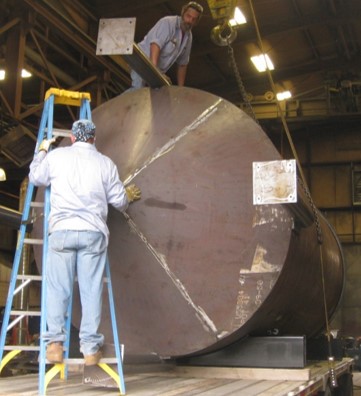 In this application customers contract Kendo to manufacture custom material handling equipment o replace a worn out parts and/or to create new processes within their manufacturing facilities. These tanks are used to hold the colored sands that cover the top of asphalt shingles and will be used in home roofing applications .
Carbon steel was rolled into a cylinder and a cone and welded together using a continuous fillet mig weld process for ultimate strength and long wear. The legs were then fabricated and mount feet welded into place. With Kendo's ability to reverse engineer existing in-place equipment and large scale one-of-a-kind manufacturing operations we were able to get our customer back into operation fast when his existing equipment was worn out. This tank as shown is headed to paint and then to the customers local factory.
The finished dimensions were an impressive 8 feet in diameter and 16 feet tall! Q & A inspection included weld testing and structural integrity. Kendo is a reliable source for high quality replacement parts, rebuilds, and custom fabrication. For more information about this project or our other value added services please see the table below or contact us directly.
Highlights of this Custom Sand Feeder Tank Fabrication Project
Product Description
Used in an asphalt roofing manufacturing plant to hold sands
Capabilities Applied/Processes
Primary:Custom Cad Engineering, Steel Processing, Fabrication
Secondary: Sandblasting, Painting
Equipment Used to Manufacture Part
20' x 10' Plasma Cutting Table
Plate Rolls
400 Ton Brake Press
Angle Rolls
Welders
Overall Part Dimensions
Product Weight: 4000 lbs. ea.
Product Diameter:  8 Feet
Product Height 16 Feet
Wall Thickness 1-1/2''
Tightest Tolerances  + / – 1/16''
Material Used
A36 Sarbon Steel Plate, Carbon Steel Tubing
Material Finish
125  RMS on machined mount surfaces
In process testing/inspection performed
Dimensional Inspection, Weld Integrity,  Functionality Testing
Industry for Use
Asphalt Roofing Manufacture
Volume
Set of 3
Delivery/Turnaround Time
2 – 3 Weeks
Delivery Location
Denver Colorado
Standards Met
Customer Specifications, 2D CAD Drawing
Product Name
Custom Hopper