In this application customers contracting for a local wind turbine manufacturer used Kendo to manufacture giant industrial ducting as a part of their manufacturing process. A large part of Kendo's business comprises doing a portion of the actual project being accomplished in an OEM product. Since we have large rolling capabilities and ability to handle very large equipment, fast turn around, and specialize in one of a kind projects, Kendo is well suited to meet your manufacturing needs. These parts, as shown, are used to redirect the airflow in a windmill from one direction to the other to maximize efficiency.
The finished dimensions were 3 feet in diameter x 10 and 20 foot lengths. Q & A inspection included weld testing and structural integrity. Kendo is a reliable source for high quality custom manufactured parts and custom fabrication. For more information about this project or our other value added services please see the table below or contact us directly.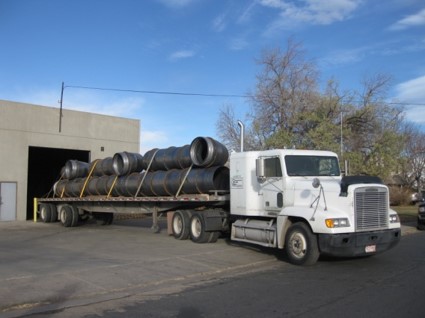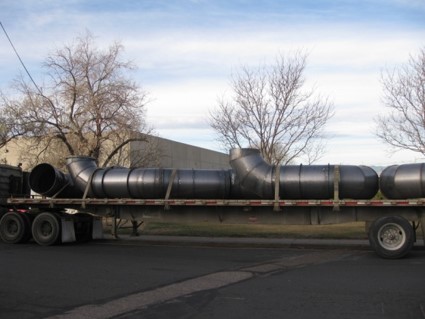 Highlights of this Custom Ducting Fabrication Project:
Product Description: Used in the manufacture process of making wind turbines for the renewable energy   industry.
Capabilities Applied/Processes
Blueprint Reading
Shop Drawings
Fabrication
Welding
Equipment Used to Manufacture Part
20' x 10' Plasma Cutting Table
Plate Rolls
Angle Rolls
Mig/ Tig Welders
Overall Part Dimensions
Product Weight:  1400 lbs. ea.
Product Diameter: 3 feet
Product Length 20 and 10 feet
Tightest Tolerances
 ± 1/16''
Material Used
3/16''  A36 Carbon Steel Plate
Flat Bar
Material Finish
125  RMS on machined mount surfaces
In process testing/inspection performed
Dimensional Inspection, Weld Inspection, Functionality Testing
Industry for Use
Renewable Energy Wind Turbine Manufacturing
Volume
Set of 30 Pieces
Delivery/Turnaround Time
3 – 4 Weeks
Delivery Location
Brighton  Colorado
Standards Met
Customer Specifications, 2D CAD Drawing
Product Name
Custom Ducting